STANDARD D.I.S.C. BEHAVIOURAL PROFILES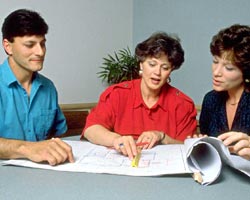 The Standard D.I.S.C. Behavioural Profile is a powerful tool which helps you understand your own behaviour and that of others.
The procedure is simple and takes about 10 to 15 minutes. Firstly you complete a Questionnaire containing 24 questions. From this we produce a 7 to 10 page document which includes:
Graphs which show the % mix of the 4 different styles that make up your natural behaviour as well as the behaviour that you adopt in your work place.
A textual report which explains

your general style and your management style
the way you communicate
your advantages and disadvantages
what motivates you
how you make decisions, organize and plan
the types of jobs you are very suitable for
TEAM REPORTS
Here's how you can create a powerful, productive team …
Get Standard D.I.S.C. Profiles produced for each of your team members. We then combine the results to produce a Team Report which will allow you to understand the dynamics of your Team. You'll be able to:-
| | |
| --- | --- |
| | make use of the individuals' natural styles to maximize your team's potential |
| | have a more effective team by using the team's combined strengths and minimizing their weaknesses |
| | motivate team members because you will understand what motivates each individual |
| | encourage the natural leaders as your report will indicate those individuals with leadership potential |
| | develop a harmonious team by catering to the preferred communication styles for individual members |
So what would it mean to you if you could...
Form excellent working relationships with others?
Get others to do the things you want or need them to do?
Predict what others are likely to do or not to do?
Relationship Reports are a textual description about the specific relationship between 2 individuals. It emphasizes the areas of agreement as well as areas of divergence which allows the pair to form a positive working relationship.
JOB PROFILES
Don't Recruit Another Person Until You Have Read This…..
Did you know that 80% of people are hired on the basis of their skill and fired on the basis of their behaviour?
Job Profiling provides you with the tool to understand what kind of person is required for a particular task before you hire anyone.
The Business Owner or Manager completes a questionnaire to produce a Job Profile that shows the ideal characteristics required for a specific job. Your short list of candidates then answer a questionnaire to produce their D.I.S.C. Behavioural Profiles … this allows you to match the characteristics of the job with the natural behavioural styles of the candidates.
Strengths and potential challenges unique to each candidate are also highlighted.
Job Profiling reduces the cost and stress of incorrect recruitment and subsequent staff turnover. It is another tool to use to help you end up with a harmonious and productive work environment.